You know how Skynet begins to learn at a geometric rate, then decides to destroy all humans? Zune Pass is kind of like that, but in the form of a black hole sucking my subscription money.
I'd approximate that no less than 40% of the stuff I've downloaded from Zune Pass is "no longer available on Marketplace for download." So most of my music collection has been invalidated with the flip of a switch over at Microsoft. Hey, thanks guys!
Every day that goes by seems like another opportunity to ditch Zune Pass. I have really enjoyed downloading music to my Zune and the Zune pass, but what's the point if it's going to be like this? I'd rather not find the music in the first place than to have it go away on me and have to buy it on iTunes anyway.
Plus, the new Zune HD is going to be a touchscreen-only device.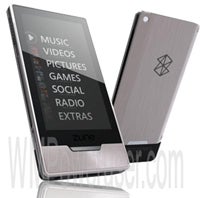 Hey, I have one of those--it's called my iPhone--and hate it for playing music. It's too hard to use in the car. Without Zune Pass being worthwhile, and with a new device that seems just like my annoying-to-use-in-the-car iPhone, I wonder how much longer having a Zune is going to be any fun.